Browsing articles in "Nikita"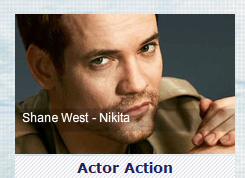 >
Congratulations to Shane and his Nikita co-stars for being nominated for Teen Choice Awards.  They are nominated in the following categories:
Best Actor: Action: Shane West
Best Actress : Action: Maggie Q, Lyndsy Fonseca
Best Action Series: Nikita
So head over to vote for Shane, the show and his co-stars and lets make sure that the best really do win!
http://www.teenchoiceawards.com/voteTv.aspx

Sorry for the delay in getting these up – but screencaps for the intense finale of Nikita have now been added to the gallery.
Home > Work > Telefilms > Nikita > Season 1 > 1.22 – Pandora
I am also going to try and get some HQ pictures of Shane at the CW upfronts added as soon as I can as well as some HQ pictures of Shane at the Skateland Premiere, so keep an eye out for them :)

Shane just tweeted the great news – another year of watching Shane rock it as Michael, the biggest BAMF on TV! If you have a twitter make sure to tweet Shane and the cast to show them how much we love the show!

>

Sorry for not adding these sooner – had some problems but I'm back now and with 3 times as much Shane goodness for you to enjoy!
1.19 – Girls Best Friend
1.20 – Glass Houses
1.21 – Betrayals

As some of you may know, I also help to run the first and only michael and nikita fansite – and here is something that was posted there that I wanted to post here too because no matter what pairing you ship we all can agree we want a season 2! Any questions are directed to the mikitadotcom twitter page.
It's been the same story for months: critics love Nikita, sites list Nikita as 'on the bubble', other sites list Nikita as 'likely to be renewed', cast is certain that there'll be a season 2.
There are two things one can do at this point: ignore the articles and interviews and just wait and see what happens, or take matters into one's own hands!
>
We're not entirely certain if Nikita is 'on the bubble' or 'likely to be renewed', all we know is that the ratings for "Glass Houses" were approx. 1.7 million, which is below our usual approx. 2 million. Plotwise, critics describe Nikita as one of the best new shows of the year, but people just need to watch it (and not let their prejudice about CW shows get the better of them).
Sign the "Renew #Nikita for a second season!" petition on twitter.
Send tweets to @CW_Network and @RobFlemingCW!
So, want to help us let the CW know that we want this show back next year? We're all Nikita watchers, and of course, it'd be cool to be badass… but we needn't show up at their doorstep with burning pitchforks. This is our plan: send tubes of lipstick to the CW, along with a letter about how much you want our beloved Nikita to come back (it doesn't have to be long, you can go straight to the point). Why tubes of lipstick, you ask? Well, a while ago, Craig (Silverstein) mentioned in an interview that Nikita had more explosive cosmetics than any other CW show. That's why. If you are capable, you'd have to send that lipstick + letter as soon as possible, because we're unsure how much time we have left.
>
Address:
ATTN: Nikita Manager
3300 W Olive Ave, 3rd Floor
Burbank, CA 91505
(818) 977-6878
All help is much appreciated, whether it be sending the lipstick or merely tweeting/signing the petition. Because really, could we survive only one season of our favorite rogue assassins?
Questions? The easiest way to get a quick response is by tweeting us.

Spread the word about this post! http://tinyurl.com/6l5p4wd

Woot woot! This promo is great! Cannot wait for next week's episode!! This is getting better! :)
Did you get any tweet from Shane? I got one. And he tweeted to almost all my twitter friends. He's incredible sweet!! :)

>
Thanks to the good people over at Warner Brothers, a few of us were pleased to sit down and have coffee with Shane West, who plays Michael on the hit series NIKITA. Here are a few things he had to say.
On his recent road trip from Toronto back to LA

Shane was asked about was his recent road trip from the set in Toronto all the way back to LA. He remarked that he had a great time, but next year he might just have his car towed back instead as the trip was long. Apparently he got through it with the combined efforts of 5 hour energy drinks and Sirius Radio.

On the development of "Mikita" (Michael and Nikita)

Shane said that he was really happy about the development of "Mikita" (Michael and Nikita getting together) and that he and Maggie Q (who plays Nikita) wanted that from the very beginning of the show. They were both shocked when it happened so quickly in the series, but they are glad with the results and they know that it is what the fans wanted. He joked that it took him three years to get one kiss on ER and now he's in a relationship in just eight episodes.

Looking back on what's happened with the show over the first season, Shane remarked that this has been a whole new experience for him, coming off of shows like ER and Once and Again. On those types of shows, things moved a lot slower and so now he feels that he doesn't know what is going to happen next. Everything he thought would wait until season 3 or 4, has already happened.

On what "Mikita" fans can expect in the final episodes of Season 1

Shane said that he thought that the fans will be happy with what they see. Michael and Nikita will absolutely continue to be together, but he was quick to point out that it won't be easy for them. There is a rough road ahead for both characters.

On the possibility of getting a Season 2

Shane said that he and the rest of the cast and crew are feeling pretty confident about the prospect. They work hard on the show and are very proud of what they've created in those long days of filming.

On whether Jaden would ever become suspicious of Michael

Shane said that he didn't think Jaden was that smart. He says that Jaden will surprise the fans in an upcoming episode as there is a twist in it that he didn't see coming and doesn't think the fans will expect it either.

On the his guest star ideas for one of the Guardians

While Shane didn't have any specific actors in mind, he did say that one thing he would love to see is them play with the idea of the stereotypical person one would think of when thinking of a Guardian. For instance he said he'd love to see an 80-year-old guy come in and do it, playing a Guardian who has been around for a very long time and hasn't done it in a while.

On what we can expect in the season finale

Obviously Shane couldn't say a lot. He was able to tell us that for as many questions as the show will answer, it will also pose a lot more. He said that many of these closing of old doors and opening of new ones will literally happen at the exact same moment.
I don't know about you guys, but that sounds pretty exciting to me. So what do y'all think? After hearing all about it from Shane West himself, are you pumped for the finale?
Also, don't forget to watch the episode tonight, and tweet with some members of the cast and crew of Nikita!!

>

Actor Shane West is out for blood. More precisely, it's his character Michael, from the popular CW series 'Nikita', that's on the warpath. After targeting the man he believed responsible for his wife and daughter's deaths, Division's top operative discovered his boss Percy ordered the fatal hit. His world shattered, Michael has turned to his former student-gone-rogue, Nikita, to take down his powerful employer. Having just arrived back in Los Angeles after wrapping in Toronto, West spoke exclusively to TV Squad about playing spy, nicknames that stick, and the new Michael.
Read the whole interview here

"No one was worried…going into the first season of the show. They put together actors and actresses with good track records, so it was more of a worry of 'Can this last for an entire year? Can we make this last for an entire year?' Nikita series star Shane West shared over coffee with reporters in Los Angeles earlier this morning.

Obviously very quickly, thanks in big part to immediate and very vocal fan response, the worry was squashed and those running the show began to look ahead and prepare for the best.

"You know, coming from Once & Again or E.R., which I consider kind of reality-based in terms of relationships, where it might take months for something to happen or years for something to happen– I've done a few action things, but not a series, and for me, what we've done in one year, I didn't know how to anser the questions when we first started. I was like 'Yeah, we'll get to that in season four' but then it's all happened in one year. I don't know what will happen in season two now; I'm the worst person to talk to now because everything that I thought would have dragged on for four or five years because that's what I'm used to [has happened]," West laughed.

But West is optimistic about a season two, and he shared that the first season finale will end with a few major twists that he did not see coming that leave some very special characters hanging off that proverbial cliff, so to speak.

Continue reading on Examiner.com. [Nikita Spoilers Alert!]

Shane's birthday project
You want to do something special for Shane's birthday? Read what we're planning to do
here
Next on Nikita

Nikita 2x01 | Game Change - May 12th (SEASON PREMIERE)