Browsing articles in "News"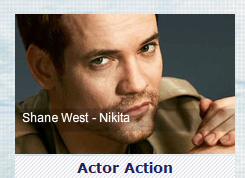 >
Congratulations to Shane and his Nikita co-stars for being nominated for Teen Choice Awards.  They are nominated in the following categories:
Best Actor: Action: Shane West
Best Actress : Action: Maggie Q, Lyndsy Fonseca
Best Action Series: Nikita
So head over to vote for Shane, the show and his co-stars and lets make sure that the best really do win!
http://www.teenchoiceawards.com/voteTv.aspx

Shane just tweeted the great news – another year of watching Shane rock it as Michael, the biggest BAMF on TV! If you have a twitter make sure to tweet Shane and the cast to show them how much we love the show!

>

EXCLUSIVE– Shane West, Bill Pullman, Cam Gigandet and Rachael Leigh Cook are toplining actioner "Red Sky," helmed by Mario van Peebles.
New film financing, production, sales and distribution company, Aldamisa Entertainment, is unveiling pic to buyers at Cannes.
Formed by Sergei Bespalov, Aldamisa is launching on the Croisette with Liz Mackiewicz heading international sales and distribution and Marina Bespalov as prexy.
Its slate also includes "The Knight Committee," a spy thriller inspired by a true story, directed by Robert Budreau and exec produced by Don Carmody ("Resident Evil").
Other titles are horror pic "Old MacDonald," Golden Globe-nominated "Edge" and "Prisoners of Power."

As some of you may know, I also help to run the first and only michael and nikita fansite – and here is something that was posted there that I wanted to post here too because no matter what pairing you ship we all can agree we want a season 2! Any questions are directed to the mikitadotcom twitter page.
It's been the same story for months: critics love Nikita, sites list Nikita as 'on the bubble', other sites list Nikita as 'likely to be renewed', cast is certain that there'll be a season 2.
There are two things one can do at this point: ignore the articles and interviews and just wait and see what happens, or take matters into one's own hands!
>
We're not entirely certain if Nikita is 'on the bubble' or 'likely to be renewed', all we know is that the ratings for "Glass Houses" were approx. 1.7 million, which is below our usual approx. 2 million. Plotwise, critics describe Nikita as one of the best new shows of the year, but people just need to watch it (and not let their prejudice about CW shows get the better of them).
Sign the "Renew #Nikita for a second season!" petition on twitter.
Send tweets to @CW_Network and @RobFlemingCW!
So, want to help us let the CW know that we want this show back next year? We're all Nikita watchers, and of course, it'd be cool to be badass… but we needn't show up at their doorstep with burning pitchforks. This is our plan: send tubes of lipstick to the CW, along with a letter about how much you want our beloved Nikita to come back (it doesn't have to be long, you can go straight to the point). Why tubes of lipstick, you ask? Well, a while ago, Craig (Silverstein) mentioned in an interview that Nikita had more explosive cosmetics than any other CW show. That's why. If you are capable, you'd have to send that lipstick + letter as soon as possible, because we're unsure how much time we have left.
>
Address:
ATTN: Nikita Manager
3300 W Olive Ave, 3rd Floor
Burbank, CA 91505
(818) 977-6878
All help is much appreciated, whether it be sending the lipstick or merely tweeting/signing the petition. Because really, could we survive only one season of our favorite rogue assassins?
Questions? The easiest way to get a quick response is by tweeting us.

Spread the word about this post! http://tinyurl.com/6l5p4wd

Although it was fairly light on Shane, you can still check out my recap and review of tonight's Nikita here.

I know it's quite early, since Shane's birthday is in june but… We are thinking about doing something special for him!
And that involves everyone… A lot of you can make videos, fanarts, poems, letters, you know you are very talented, so why don't we put all your "birthday presents" in a special section of this site and send the link that to Shane the day of his birthday?
What you have to do is very simple create something Shane's related and send it to us! We'll build everything else to wish him the best birthday ever!
RULES
01. Keep all submissions clean! Do NOT send in any inappropriate or rude material.
02. You MUST submit just your first name or nick name along with the photo.
03. You MUST also submit something Shane related, and the best thing is if you wish him happy birthday in someway.
04. You can submit maximum 2 thing per person.
05. The deadline for this project is on June 1st at midnight. Any submissions submitted after the deadline will be ignored.
06. We can decide what to publish or not to publish in the project, don't do something just for doing it, do something pretty :) he deserves it!
Mail your "birthday present" to
staffswf@gmail.com
with the subject Shane's Birthday Project.
Have fun!

In an attempt to ease your pain over there being no Nikita tonight, I've run a special People Who Are Awesome feature. Why is Shane awesome? Well, you probably already know, but you can read all about him and add your thoughts!

Finally I'm back and ready to get you some goodies from last night People Choice Awards, this is just a first part so stay tuned for more! We find the pics and the videos all over the internet so we don't own them, they belong to their owner and we're just borrowing them!
Home > Out and About > 2011 > People Choice Awards – 5th Jan. 2011

Couple of days ago Shane was at a Foo Fighters LA secret show! No pics are online yet, but we hope to see something soon!
LOS ANGELES (Hollywood Reporter) – The Foo Fighters took time out from finishing their new album to unveil some new tunes and dust off some oldies at a secret club show for fans, family members and famous friends in Los Angeles on Tuesday.
Among the famous faces in the crowd at Palladino's were actors Ryan Phillippe, Amanda Seyfried and Shane West who took in a set list that boasted such hits as opener "Times Like These," "My Hero," "For All The Cows," "Generator," "The Pretender" and "Learn To Fly."
The band also debuted several songs, including "Dear Rosemary," "White Limo," and "Back and Forth." The latter which may end up as the title of their seventh album, band frontman Dave Grohl told the crowd.
On one new song, presumably called "I Should Have Known," Grohl was joined on stage by former Nirvana bandmate Krist Novoselic, who reportedly plays accordion on the new album.
The album, produced by Butch Vig (Nirvana's "Nevermind") in Grohl's home studio, marks the follow-up to 2007′s "Echoes, Silence, Patience & Grace."
Source: Reuters

Shane's birthday project
You want to do something special for Shane's birthday? Read what we're planning to do
here
Next on Nikita

Nikita 2x01 | Game Change - May 12th (SEASON PREMIERE)