Browsing articles in "Interview"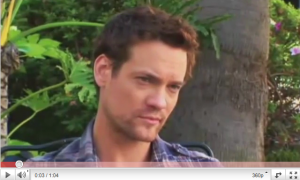 >
Click on the image to watch the video on youtube! Thank you for uploading ohmymikita. =)

This is a video Shane did for MTV – "When I was 17″. It's really good so check it below. :)
I want to thank @twinklestarr84 for uploading the video.
We are a little behind on news, and I'm sure you already watched the videos I'm going to post but I'm going to post in case you didn't. :)

>
Thanks to the good people over at Warner Brothers, a few of us were pleased to sit down and have coffee with Shane West, who plays Michael on the hit series NIKITA. Here are a few things he had to say.
On his recent road trip from Toronto back to LA

Shane was asked about was his recent road trip from the set in Toronto all the way back to LA. He remarked that he had a great time, but next year he might just have his car towed back instead as the trip was long. Apparently he got through it with the combined efforts of 5 hour energy drinks and Sirius Radio.

On the development of "Mikita" (Michael and Nikita)

Shane said that he was really happy about the development of "Mikita" (Michael and Nikita getting together) and that he and Maggie Q (who plays Nikita) wanted that from the very beginning of the show. They were both shocked when it happened so quickly in the series, but they are glad with the results and they know that it is what the fans wanted. He joked that it took him three years to get one kiss on ER and now he's in a relationship in just eight episodes.

Looking back on what's happened with the show over the first season, Shane remarked that this has been a whole new experience for him, coming off of shows like ER and Once and Again. On those types of shows, things moved a lot slower and so now he feels that he doesn't know what is going to happen next. Everything he thought would wait until season 3 or 4, has already happened.

On what "Mikita" fans can expect in the final episodes of Season 1

Shane said that he thought that the fans will be happy with what they see. Michael and Nikita will absolutely continue to be together, but he was quick to point out that it won't be easy for them. There is a rough road ahead for both characters.

On the possibility of getting a Season 2

Shane said that he and the rest of the cast and crew are feeling pretty confident about the prospect. They work hard on the show and are very proud of what they've created in those long days of filming.

On whether Jaden would ever become suspicious of Michael

Shane said that he didn't think Jaden was that smart. He says that Jaden will surprise the fans in an upcoming episode as there is a twist in it that he didn't see coming and doesn't think the fans will expect it either.

On the his guest star ideas for one of the Guardians

While Shane didn't have any specific actors in mind, he did say that one thing he would love to see is them play with the idea of the stereotypical person one would think of when thinking of a Guardian. For instance he said he'd love to see an 80-year-old guy come in and do it, playing a Guardian who has been around for a very long time and hasn't done it in a while.

On what we can expect in the season finale

Obviously Shane couldn't say a lot. He was able to tell us that for as many questions as the show will answer, it will also pose a lot more. He said that many of these closing of old doors and opening of new ones will literally happen at the exact same moment.
I don't know about you guys, but that sounds pretty exciting to me. So what do y'all think? After hearing all about it from Shane West himself, are you pumped for the finale?
Also, don't forget to watch the episode tonight, and tweet with some members of the cast and crew of Nikita!!

>

Actor Shane West is out for blood. More precisely, it's his character Michael, from the popular CW series 'Nikita', that's on the warpath. After targeting the man he believed responsible for his wife and daughter's deaths, Division's top operative discovered his boss Percy ordered the fatal hit. His world shattered, Michael has turned to his former student-gone-rogue, Nikita, to take down his powerful employer. Having just arrived back in Los Angeles after wrapping in Toronto, West spoke exclusively to TV Squad about playing spy, nicknames that stick, and the new Michael.
Read the whole interview here

"No one was worried…going into the first season of the show. They put together actors and actresses with good track records, so it was more of a worry of 'Can this last for an entire year? Can we make this last for an entire year?' Nikita series star Shane West shared over coffee with reporters in Los Angeles earlier this morning.

Obviously very quickly, thanks in big part to immediate and very vocal fan response, the worry was squashed and those running the show began to look ahead and prepare for the best.

"You know, coming from Once & Again or E.R., which I consider kind of reality-based in terms of relationships, where it might take months for something to happen or years for something to happen– I've done a few action things, but not a series, and for me, what we've done in one year, I didn't know how to anser the questions when we first started. I was like 'Yeah, we'll get to that in season four' but then it's all happened in one year. I don't know what will happen in season two now; I'm the worst person to talk to now because everything that I thought would have dragged on for four or five years because that's what I'm used to [has happened]," West laughed.

But West is optimistic about a season two, and he shared that the first season finale will end with a few major twists that he did not see coming that leave some very special characters hanging off that proverbial cliff, so to speak.

Continue reading on Examiner.com. [Nikita Spoilers Alert!]

Shane was on Acess Hollywood Live today. It was a fun interview! Check the video below. :)
And don't forget to watch an all new episode of Nikita tonight!!

Another new interview from Shane! We know that he did quite a few yesterday and they will be getting released over the next week or so – so make sure to keep checking back!
Warning: If you're one of the many (or few, depending on how you look at it) hoping for Nikita's Michael and Alex (Lyndsy Fonseca) to start lovin' it up, Shane West has some pearls of wisdom for you: "Let's be real, people!"

"Michael can't date her," West laughs when asked about a possible Malex (?) romance — something he'd never even considered before my little chat with him this morning. "It's not gonna happen."

Seriously, he's not picking on the devoted fandom. West completely understands why people might think the show is headed that way, but instead of egging you guys on, he's just ripping the band-aid off in quick, painless fashion.
Read the rest of the interview here at tvinline.com

Here is the first of many Shane interview's done today – more to come as they are released. They are spoilerly – so be warned!
To put it mildly, "Nikita" fans are divided.

When Zap2it posted interviews with Maggie Q and Lyndsy Fonseca about the show possibly exploring a love triangle between Nikita, Alex and Michael, a battle erupted in the comments between fans of the two couples.

While Maggie called a relationship between Michael and Alex "creepy," Lyndsy said, "I think if it happens it'll have to happen for the right reasons."

Naturally, we had to go to the third party involved in this currently non-existent love triangle: Shane West. Take a moment and prepare yourselves Michael and Alex fans because West ain't drinking the "Malex" Kool-Aid.
Read the rest of the interview here

Finally the day has come for Brittany: she interviewed Shane (lucky her uh?)
Here you can read an excerpt of the article and then you can go to her site for the full interview!
Also stay tuned because we have a brand new layout ready for you and also a new member of the staff… Lot is coming here at SWF!
On The Wavelength With "Nikita's" Shane West
He's been at the top of my Interview Wish List for five months – and that day has come. This afternoon, Nikita star Shane West and I sat down to dish about Michael's various and sundry character quirks, the show's rumored tonal shift, and what we may have missed, just ahead of tonight's all-new episode of the CW spy drama.

First, I should get this off my chest: when Nikita premiered, I was a little hard on your performance. Having seen more of your work since then, though, I should say that I was wrong and you were right, and I'm quite impressed with your work.

Really? Well, this is a character who's obviously been played by three other people. So I took a lot from some of those characters. If you look in my past, you can see a lot of similarities, but this isn't a character I've played before, so that's refreshing.

You and I seem to keep missing each other. We were in the same room at Comic-Con because Nikita had its press room right before Human Target, and I was there for that show. I had no idea I'd end up covering your show.

Tell Mark Valley I said hi. Mark Valley was a recurring on Once & Again, and I used to see him a lot.
I haven't had a pilot season since Once & Again. There were three or four shows I could've done, but Nikita was the one that stood out to me because of the character. I loved [Roy Dupuis] and his take on it, but what I wanted to add to it was a little bit more heart and soul.

You've certainly done that. The character of Michael is, to me, the most fascinating on the series because he hasn't picked a side yet. He exists in a kind of grey area. How long do you think he can stay loyal to Division without looking stupid?

He's stayed loyal to Division for a very long time. He's been involved with them for awhile. I think that [the events so far are] just kind of the catalyst that's going to bring him to the realization that most of what he's doing is a little off.

With stuff like this, you could write this for years. All the stuff that's happened in half a season of this show could've happened in a few years. It's going to be hard if I were to ever join [Nikita's] side. It'd be hard to replace Michael. If they did have a guy to come in to be the new Michael, he'd have to be somebody with an interesting background.
Full interview at: DigitalAirwaves.net

Shane's birthday project
You want to do something special for Shane's birthday? Read what we're planning to do
here
Next on Nikita

Nikita 2x01 | Game Change - May 12th (SEASON PREMIERE)