Browsing articles in "Media"
Ita : Sulla Community dei Rommies è stata postata una favolosa intervista fatta a Shane nei giorni scorsi mentre si trovava in Inghilterra, ed è stato postato anche il video della trasmissione anche se con una qualità molto molto bassa purtroppo! Vi consiglio di leggere quantomeno la trascrizione perchè ci sono conferme interessanti sulla 13esima stagione di ER!
Eng: On the LJ community for the Rommies someone posted a wonderful interview that Shane did while he was in London. There's also a video but in a very poor quality. You really should read at least the transcript if the interview because there are some interesting news about Er season 13!
Leggi l'intervista – Read the interview
Guarda il video – Watch the clip
ETA: Grazie ad Isa adesso potete anche scaricare il video cliccando qui
Now, thanx to Isa, tou can download the video too, by clicking here

Ita: Ho caricato un nuovo video, una intervista fatta a Shane nel 1999 in cui prla di Sela Ward sua co-star in Once and Again
Eng: I uploaded a new video, an interview from 1999 where Shane talks about his co-star in Once and Again Sela Ward

>Interview: Shane talking about Sela Ward
Size: 2,07 MB
File Type: mov (quicktime)
[download now]

Su Shanelicious Isa ha postato il trailer di What we do is secret! Vedendolo non si può che sperare sempre di più che prima o poi il film venga distribuito anche nelle sale!!! Potete scaricare il video qui, siccome è in formato flv probabilmente vi servirà anche il programma per vederlo, che trovate qui! Nel frattempo sto cercando di convertirlo!
Thanx to Isa for this beautiful video…Shane looks really amazing in the role of Darby Crash!

Il Nickaos.com ha finalmente messo online i video girati la settimana scorsa a Bergen alla partita degli Hollywood Knights! potete scaricarli dal sito, precisamente in questa pagina. Essendo il Nickaos un sito su Nick le riprese sono concentrate prettamente su di lui e così mi sono permessa di ricapitolare in breve i momenti in cui si vede Shane! Per quanto riguarda i video della partita potete scaricate questo file txt in cui ho scritto i minuti dei vari spezzoni in cui potete vederlo; per i video nella lobby dell'albergo invece lo potete vedere nel primo dei due contenuti nel file zip!
Naturalmente è d'obbligo un enorme grazie alle ragazze del Nickoas e del Totally Unique. Thanx to these amazing sites for the pics and for these beautiful videos!
Buona visione!
Un'ultima cosa, lo Shane West Italia è stato eletto sito del mese dal bellissimo sito Amazing dedicato a Jake Gyllenhaal, grazie a Maura, la webmistress!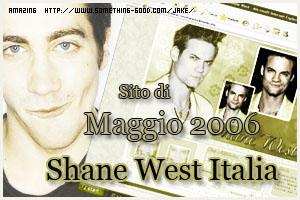 >

Ho finalmente trovato il tempo di caricare i video di cui vi avevo parlato tempo fa!

Ho caricato nella Gallery le screencaps del breve cameo che Shane fa nel film Dracula 2000, e nella sezione video potete trovare da scaricare anche lo spezzone del film!

>

>

>

Allora…mi sono data un po' da fare per far diventare questo sito un pochino più organizzato, come potete notare adesso sulla sinistra il menù e ben più fornito, anche se ancora non tutte le voci sono attive, ma come si dice…stiamo lavorando per voi! Intanto ho messo bene a posto la sezione Multimedia e soprattutto la pagina dei Video, visto che, tra l'altro, grazie a Claire ora potete trovare tre nuovi filmati che sono davvero delle chicche imperdibili che siamo fieri di offrirvi! Quindi…non perdetevele!

Piccolo aggiornamento! Inanzitutto ho caricato qualche nuova foto davvero carine…

>

>

>
Poi ecco per voi qualche video:

Oggi aggiornamento per la sezione Multimedia!
Audio
Video

Luisa ha gentilmente caricato per tutti noi su Megaupload tre video di Shane: un dietro le quinte de "I Passi dell'amore", un documentario sul set del film girato dalla stessa Mandy Moore e l'intervista fatta a Shane e Mandy al Rove Show. Li trovate tutti e tre qui, un file rar di circa 25 MB che dovrete poi scompattare! Buona visione!
Inoltre ho caricato nella Gallery [129 screencaps] del video di Mandy Moore Cry…

>

>

>

Shane's birthday project
You want to do something special for Shane's birthday? Read what we're planning to do
here
Next on Nikita

Nikita 2x01 | Game Change - May 12th (SEASON PREMIERE)